Troops in Baghdad Cheer President Obama's Surprise Visit
President to Hand Out Medals of Valor to U.S. Soldiers
By JAKE TAPPER, SUNLEN MILLER and KAREN TRAVERS
April 7, 2009
On a surprise visit to a U.S. military base in Baghdad, President Obama told cheering American troops that now is the time for the Iraqis to take responsibility for their country.
During a surprise visit, the president addresses about 700 U.S. troops.
More Photos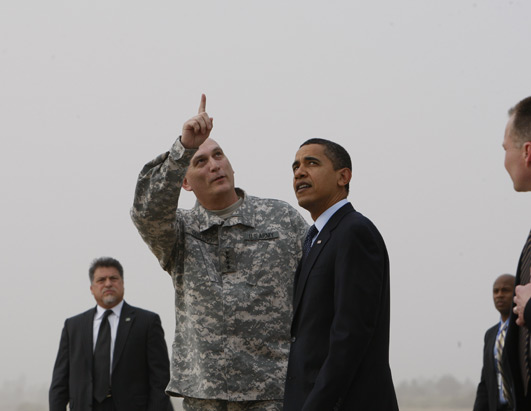 Obama said that the next 18 months will be a "critical period" in Iraq, referring to the August 2010 deadline for the withdrawal of all U.S. combat forces from Iraq. "You have given Iraq the opportunity to stand on its own as a democratic country. That is an extraordinary achievement and for that you have the thanks of the American people," Obama told about 700 U.S. service members, including Vice President Biden's son Beau, at Camp Victory the sprawling American camping that is a short car drive from Baghdad airport.
"You will be critical in terms of us being able to make sure Iraq is stable, that it is not a safe haven for terrorists, and we can start bringing our folks home," Obama said at the Al Faw Palace, a former palace for Saddam Hussein.